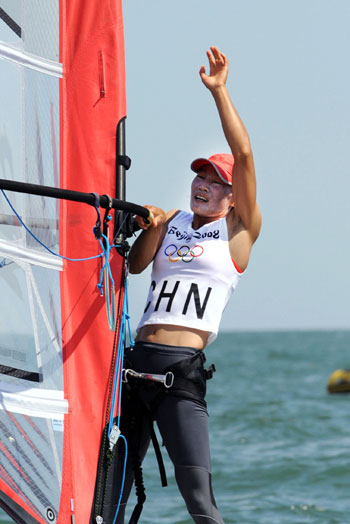 Yin Jian of China celebrates after RS:X Women Medal Race of the Beijing 2008 Olympic Games Sailing event in Qingdao, Olympic co-host city in east China's Shandong Province, Aug. 20, 2008. Yin Jian won the gold medal in the event. (Xinhua/Wang Song)
    QINGDAO, East China, Aug. 20 (Xinhua) -- When Yin Jian speeded against waves to cross the finishing line on her sailboard, she made the history for China at the Beijing Olympic Games here on Wednesday.
    Yin awarded China its first ever Olympic sailing gold by claiming the women's RS:X title at the Qingdao Olympic Sailing Center.
    With a five-point lead into the double-point medal race, Yin exploited her know-how of the waves to the best effect.
    Despite a fourth and three fifth finishes by the first four marks, Yin regained her composure and staged a magnificent comeback when the Spaniard in front of her threw in a tack.
    She seized the opportunity and stormed all the way to the finishing line. She placed third and gained 39 points overall to secure the gold, reeling in her rival to huge cheers from the breakwater.
    It is also the first time that the host nation has ever won the Olympic sailing gold in windsurfing on home water.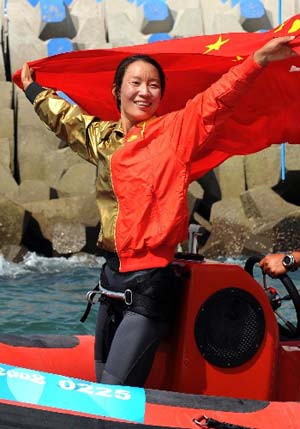 The Chinese delegation has already won two Olympic silver medals in windsurfing, with Zhang Xiaodong in Barcelona in 1992 and Yin Jian in Athens in 2004, plus the Laser Radial bronze won by Xu Lijia here on Tuesday.
    "It's so hard to get this gold medal. It bears the expectation of all Chinese sailors for generations. I am happy that today I accomplish the mission and make the dream come true," said the 29-year-old Yin.
    "For an old athlete, competing in this Olympics was hard. I've had many injuries in the past four years. I was able to persevere until now because I wanted to make China proud in the Olympic Games that China is hosting," said the Sichuan native.
    Standing on the top of the podium and wrapped up with the national flag, Yin couldn't stop her tears falling amid the screaming and flag waving of Chinese spectators. She knew how difficult it was to come to this point.
    At the 2004 Athens Olympics, a small collision with another competitor in the 10th round relegated Yin to a silver medal finish, just two agonizing points shy of a gold medal.
    During the World Championships in 2007 and 2008, she only ranked 10th and 24th for the RS:X class.
    Even in the medal race this time, it was such a breathtaking performance for Yin that she said she experienced an emotional up-and-down on the water.
    "When I dropped to the fifth, I felt so nervous that I couldn't pump up properly. I thought my game was over and I would lose my gold medal," admitted Yin.
    "But when I saw the Italian take the lead, I threw my fears away and told myself, 'just run your own race,' and I started pumping hard," she said.
    "Soon after that, when the Spanish and the British sailors had a collision and I knew my chance came. I got into the third place, and had to make sure that I stayed there until the very end. Then, I made it," smiled Yin.
    A burning desire to win and a determination to fight till the last moment was the comment on Yin from her coach Jiang Chen, who couldn't save his tears for her.
    "Today's race is a true reflection of her past 10 days' races. She had a good start but immediately fell behind in the middle and had to catch up one by one. It was difficult but, in the end, she caught up with one after each mark and entered the top three. It is all because of her determination and perseverence," he said.
    "This is the sport that Europeans excel in and they are usually good at making a last push in the final race. So today, Yin relied on herself to deal with surprises. She did it well and took all the important opportunities," Jiang added.
    China's sailing team captain Yao Xinpei, who was thrown into water by his excited team members, also gave thumbs up to Yin.
    "Yin Jian proved that she could survive and revive. She is an all-around mature sailor. Today's medal race was really classic and it will be definitely recorded into the history of Chinese sailing," he said, adding that Yin's success also highlighted the improvement of overall leval of China's sailing.
    Born in Daliangshan, a mountain area in Sichuan province, Yin started windsurfing at the age of 15 at a local aquatic sports school. She could only stay at home one or two months a year, since there is no suitable waters there for training.
    But Yin said whenever she felt frustrated, the first haven that occured to her was her hometown.
    "Daliangshan is always my moral support. The high attitude there gave me good health condition and the strenth to surve all the hardships. The most important is the love and support from my parents and villagers," she said.
    Her father kept a weather diary for her, because he knew weather meant a lot for his daughter and this was the only thing he could help. Her mother sang local folk songs to Yin on the phone when Yin cried and said the waist muscular strains pained her every night.
    "I miss them so much and I want to go home now. I am happy that I can go back proudly," she said.