Highly tactical finale as battle for a more favourable leader board position draws to a close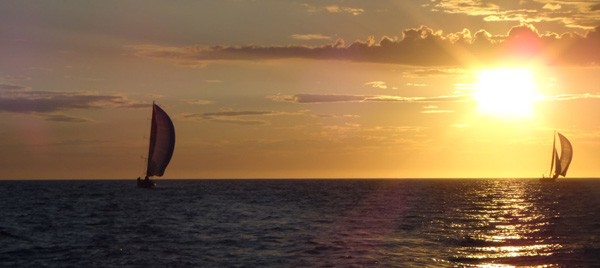 CLIPPER 11-12: RACE 12: NEW YORK TO NOVA SCOTIA DAY 5
It has been an exciting and highly tactical 24 hours for the ten strong fleet of 68-foot ocean racing yachts competing in the Clipper Round the World Yacht Race, as the battle for a more favourable leader board positionh draws to a close.
There have been many changes in weather and race positions for the fleet. Each team has had their fair share of gains and losses in the variable winds which have seen them yo-yo through positions on the leader board.
At 05:31 UTC (02:31 local time) today Gold Coast Australia crossed the finish line for Race 12. In this close knit race from New York to Halifax, Nova Scotia, Canada where only 30 miles separate the fleet, each team has strived to choose the best tack to get the highest speeds over its rivals.
With a successful game plan that calculated the maximum use of the tides and winds, skipper Richard Hewson reports, "Shortly after sunset the breeze began to die away, and was a far cry from the predicted 16 knots from the north west. As the evening went on the wind further reduced to five knots, varying from northerly to easterly direction and some severe choppy seas created by the wind over the tide. We were almost stopped in the water only 15 miles from the finish. Occasional gusts of wind enabled us to finally get the boat moving with some momentum to carry our way to cross the line."
Visit Finland has claimed second place finishing at 10:42 UTC today, closely followed by Welcome to Yorkshire who arrived in Nova Scotia in third place at 11:12 UTC. Meanwhile, Edinburgh Inspiring Capital and Geraldton Western Australia are neck and neck with only seven miles until the finish line with New York and De Lage Landen hot on their heels.
If you look at the overall race standings on the Clipper Round the World Yacht Race website, you will see that Gold Coast Australia now has enough points to win the series. However, there is still all to play for as the Australian entry will not only be up against the opposing teams but 2,200 miles of the mighty Atlantic Ocean for Race 13 to Derry-Londonderry, NI.
Each team has a duty of care to its Clipper Race yacht and any damage or race rule breaking can see penalty points deducted from their overall score. With three more races to complete the potential to loose points still looms.
The penalty points for Leg 7 have now been announced by the Clipper Race Office and taking a sting is Singapore, who have received one penalty point for equipment damage, and Edinburgh Inspiring Capital who have had one point deducted for sail repair and two points for equipment damage.
The rest of the fleet is expected to cross the finish line within the next 12 hours. From there the teams will motor to the Royal Nova Scotia Yacht Squadron.