A competitive race start from Nova Scotia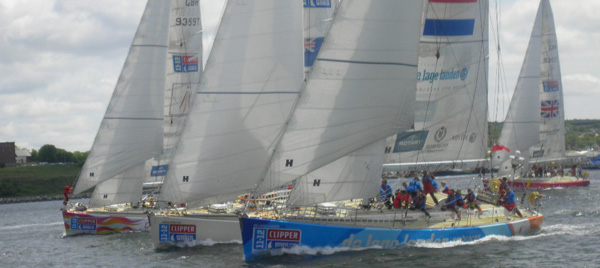 CLIPPER 11-12: RACE 13 - NOVA SCOTIA TO DERRY-LONDONDERRY - DAY 1
After a short stop in Halifax, Nova Scotia, the ten-strong fleet  taking part in the world's longest ocean race has set sail for Derry-Londonderry, Northern Ireland in Race 13 of the 15-race, 40,000-mile circumnavigation.
It was an exciting start to the 2,350-mile Atlantic crossing as the teams yesterday afternoon (GMT) lined up at the inshore start line with only minutes to spare. Aided by steady winds, as the gun sounded, all ten teams crossed together in a tightly packed charge out of the harbour with only metres between each yacht.  

Jostling for position over competitors, each team has been using almost every sail in its wardrobe over the last 18 hours and as they head further into the Atlantic, choosing the right sail plan opens up the potential for some very fast sailing.

If you look at the Race Viewer on the Clipper Race website you can see the fleet is still packed with only seven miles separating the front and back runners. Gold Coast Australia is currently in the lead while Visit Finland is second and Singapore is in third place.

With the Clipper Race crew getting back into the routine of rough ocean racing, on board Derry-Londonderry, skipper Mark Light reports that the mind-set on board is focused on achieving its first win, and the first home port win in the race series.

"We are all fired up to get the most important result that we can. A first place, a yellow pennant, a home port win – a victory would be an amazing achievement. We will do everything that we possibly can to make the city proud on our journey across and it will be absolutely fantastic to sight the shores of Northern Ireland ahead of our arrival. We are most definitely coming home."

The fleet is expected to arrive in Derry-Londonderry, Northern Ireland between 29 June and 1 July, where the UK City of Culture for 2013 will host a Clipper Race homecoming festival on behalf of the fleet from 29 June - 8 July.