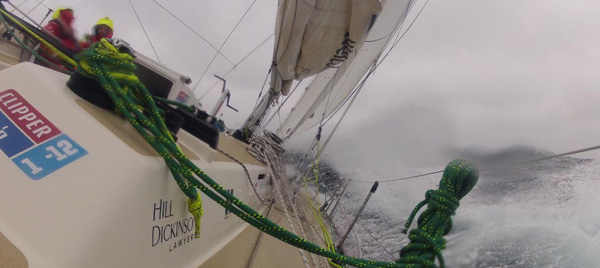 What a difference a day makes in the life of an ocean racer as the ten international teams talking part in the Clipper 11-12 Round the World Yacht Race have been doing all they can to keep approaching tropical storm 'Chris' at bay.
    In the last 24 hours, the fleet has received warning that 'Chris', which was expected to pass by, has been moving closer towards them and could produce further challenging conditions. Meteorologist and winning skipper of the Clipper Race in 2002, Simon Rowell, reports, "Today should be the strongest day of tropical storm 'Chris', with it forecasted to start curving northwards, reaching its furthest point east by midnight tonight. Depending where each team is positioned the centre could get pretty close to them, and even though the winds won't be more than they have seen many times before, the speed of change in wind direction and the confusion will add to the sea state which will make helming quite challenging."
    With the tropical storm in sight, the teams have been busy plotting their best course to move away from its path whilst not jeopardising their position on the leader board, as well as carrying out preparations on board for the potential heavy upwind sailing.
    Gold Coast Australia, Singapore and Welcome to Yorkshire continue to lead the pack, whilst Visit Finland has emerged from its period in Stealth Mode in the middle of the leader board.
    At 0500GMT this morning, Qingdao crew member Lynn Harmer had a fall below decks and sustained an injury. Lynn is in a stable condition and is being looked after by a medically qualified crew member on board. The yacht is in contact with Falmouth Coast Guard and the Clipper Race Office.
    As a precaution Qingdao has changed course towards Newfoundland (approx. 450 miles north west) to get Lynn closer to shore based medical support if it is required. If her condition improves, a decision may be taken to resume racing towards Derry-Londonderry. Further updates will be posted on the website.
    The Clipper Race fleet is set to arrive into Derry-Londonderry, Northern Ireland between 29 June and 1 July.