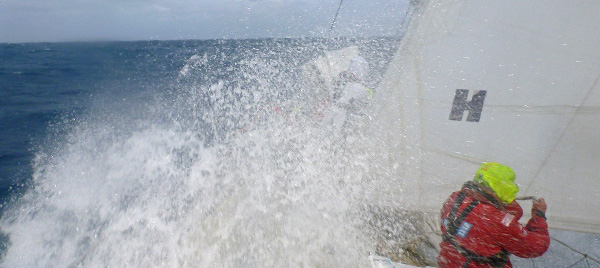 After a spectacular visit and farewell ceremony held in Derry-Londonderry the UK City of Culture 2013, thousands of spectators flocked to wish the fleet well as it performed an impressive parade of sail on the River Foyle to mark the start of Race 14 to Den Helder in the Netherlands.
    As the teams settle back into life at sea thoughts about the amazing visit to Derry-Londonderry are now turning to what lies ahead and the fleet is back into full race mode, pressing north to round the top of the British Isles before heading into the North Sea.
    Clipper Race Director Jonathan Bailey, says, "This race could prove to be a challenging one if conditions deteriorate or it could equally be a test of light wind sailing skills. It will be heavily influenced by the depressions that come across the Atlantic much further north during the summer months and also the strong tidal flows around the coastline."
    Following an unfavourable start to the race Gold Coast Australia has chased down the lading pack in the last few hours, sparring with Singapore and Welcome to Yorkshire over a distance of two miles. With only 30 miles separating the fleet, it will be interesting to see how the positions change over the next few days of this challenging race.
    To add to the challenge Stealth Mode periods, Scoring Gate and Ocean Sprint points do not apply in this short 800-mile race, putting the pressure on to secure those all-important podium points.
    Race 14 to Den Helder in the Netherlands is the penultimate competition in the Clipper 11-12 Race, the fleet is expected to arrive between 11-13 July and will be berthed at the Willemsoord Marina. The fleet will set off on its final race back to Southampton on 19 July, finishing in the Solent on Sunday 22 July.
Latest boat positions (0900 UTC)
Position Team DTF DTL
1 Gold Coast Australia 633NM 0NM
2 Singapore 634NM 1NM
3 Welcome to Yorkshire 635NM 2NM
4 Visit Finland 637NM 3NM
5 De Lage Landen 654NM 21NM
6 Edinburgh Inspiring Capital 659NM 26NM
7 New York 661NM 27NM
8 Geraldton Western Australia 661NM 28NM
9 Derry-Londonderry 663NM 29NM
10 Qingdao 663NM 29NM