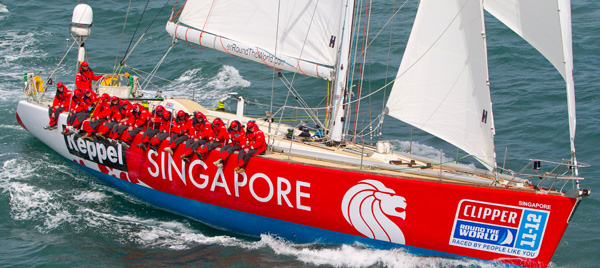 After a tough tussle with light winds the final push for a podium position went down to the wire this morning and crossing the finish line off the coast of the Netherlands at 0724 UTC, Singapore, sponsored by Keppel Corporation, secured its first win in the Clipper 11-12 Round the World Yacht Race series with victory in Race 14 to Den Helder.
    Hot on the Singaporean entry's heels, Visit Finland secured its seventh podium success a mere 17 minutes later in second place and Gold Coast Australia completed the podium trio, a further17 minutes after its Finnish rivals. However, Singapore's win spoilt the Australian entry's chances of matching the record for consecutive Clipper Race wins.
    Speaking of its first victory, Singapore skipper Ben Bowley says, "It feels absolutely fantastic we've been waiting for this for a long time. It's been a hard race and very challenging. It was neck and neck all the way through right down to the wire with only 17 minutes in it in the end but we are absolutely ecstatic and I am so please for the crew."
    Meanwhile, positions on the leader board continue to change frequently for the rest of the fleet, as the remaining competitors attempt to make up miles in the immobilising conditions. New York's tactics to stay close to the coastline has paid off and the U.S. entry has shot up from the back of the fleet to fourth place overnight, whilst Welcome to Yorkshire has fallen victim to another wind hole, slipping further down the pack.
    The remaining fleet is expected to arrive throughout the day; regular updates will be posted here and on the Clipper Race Facebook and Twitter pages.
    A festival will be held in Den Helder over the weekend which includes an international food market, street theatre, music and more. The Clipper Race Roadshow will also be there, with presentations for anyone interested in taking up the adventure of a lifetime on a brand new fleet of yachts.