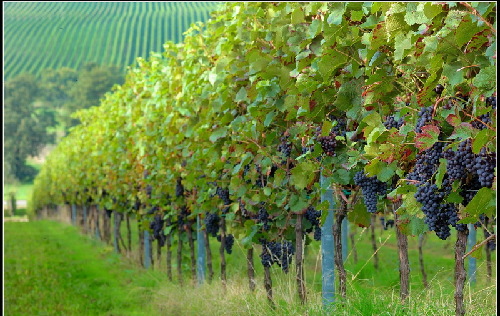 Daze Mountain Scenic Area
    Daze Mountain, also known as "Jiuqing" Mountain, has been designated by the State as "Home to China's Grapes," "Northern China's Quarry" and "Shandong Scenic Resort." It enjoys abundant resources, beautiful scenery and a mild climate. It is a new tourist area and a "Civilization Model" for Shandong Province.
    Daze Mountain lies in the eastern part of Shandong Peninsula at the northern border of Pingdu City. It extends for 324 km2 and includes 2,100 hills. The summit is 737 m above sea level, one of the highest peaks in the eastern Jiaozhou area. It is recorded in local chronicles that "streams coming from the mountains converge into rivers here, hence the name Daze (Big River)." Daze Mountain is full of magnificent ranges with a variety of pine trees, steep cliffs and secluded valleys. The chronicles say "the mountains and rivers are magnificent and secluded …….many hermits and celebrities lived here from the Qin and Han Dynasties, therefore it is known as "immortal's abode." After the Song and Jin Dynasties, more and more visitors came here. During the Ming and Qing Dynasties, the temples in the mountain became prosperous. More and more people came to see the sunrise and worship in the temples. During the Ming Dynasty, there was a saying that there were "thirty-six famous scenic spots on Daze Mountain," and "Cloud in blue sky" was one of the eight famous scenes in Pingdu.
    When touring the mountain, visitors come across steep cliffs, secluded valleys, high waterfalls and green forests as if traveling in a fairyland. In the Huangcheng scenic area, there is a northern peak and a western peak. The scenery on the northern peak is best. On Daze Mountain, there are beautiful peaks and cliffs everywhere in various shapes and formations. There are many legends about these areas such as: Sun Mo and Pang Juan studied in Guigu Cave; Xi Shi and Fan Li lived in seclusion in Fan Li Valley; Red Brow Army guarded Huangcheng County in the Han Dynasty; Prince Yang Si hid books in a case in the Sui Dynasty; and Emperor Li Shimin of the Tang Dynasty shot an arrow to get water. The story about militants in Gaojia Village using landmines to fight against Japanese troops during the War of Resistance against Japanese Aggression is well known in every household through the film "Landmine Battles." Now, there is a memorial hall in Gaojia Village in memory of the landmine war.
    Daze Mountain enjoys unique conditions for growing grapes, and there is a long history of grape cultivation here. There are historic records dating grape cultivation back to the Han Dynasty (2000 years ago). Daze Mountain is known as "Home to grapes." The varieties produced here such as Rose Fragrant, Jufeng, Red Chicken Heat, Zexiang and Dragon's Eye are superior in color, taste and shape. Visitors to Daze Mountain can enjoy both the picturesque landscape and delicious grapes.
    Telephone  number :0532-89635555 0532-85371359
    Address   :Daze Mountain