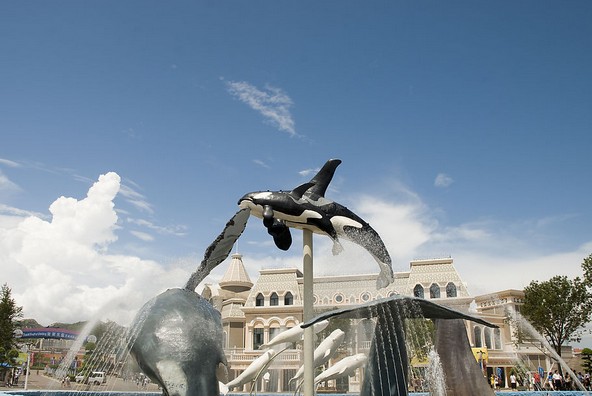 Qingdao polar region sea world
    Qingdao Polar Ocean World was built by the Dalian Haichang Group with a total investment of USD 200 million. It covers an area of 200,000 m2, combining catering, accommodation, travel, tourism, shopping and entertainment. It is the largest tourist project in Shandong Province so far, and was one of the seven major projects for the 2008 Beijing Olympic Games.
    Qingdao Polar Ocean World integrates the culture, history and natural resources of Qingdao to create an "Ocean Disneyland" and the first marine sleepless city. The first phase of the project was a modern structure in the shape of a boat. It has a floor area of 48,000 m2 and covers a land area of 30,000 m2. It is the first hyper sized polar ocean zoo in China and one of the best in the world. It has the largest number of marine animals and the most species of polar marine animals. It abandoned the traditional water tank for animal-raising. Instead, it adopts acoustic, video and electrical hi-tech aids to create a real polar marine environment that gives visitors the feeling of being in a real polar ocean world. There are special areas for popular polar science, scientific research equipment, culture and natural marina life. Visitors can experience a real polar research environment.
    Qingdao Polar Museum will be the forerunner for the second generation of polar museums and will provide a special experience for the visitors.
    Telephone  number :0532-89091908/89091159
    Address    :Qingdao Mt. Laoshan area East China Sea east road 60