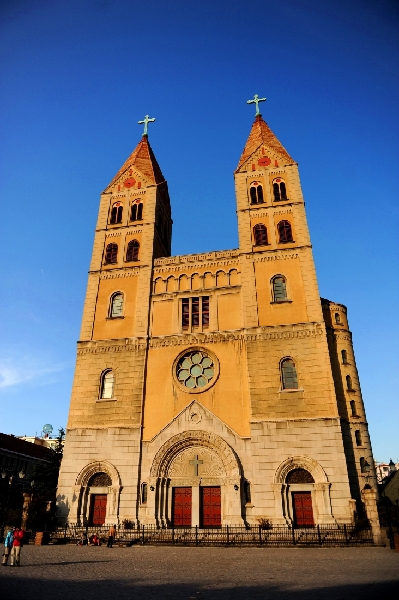 The Catholic Church
    This Catholic Church is originally called St. Michael's Cathedral, which was designed by a German architect Pepieruch in Gothic and Romanesque architecture styles. According the original design the church was supposed to be a hundred meters high. Due to the outbreak of World War II, Hitler prohibited the outflow of domestic funds. The church had to modify the design into the present scale.
    The church was started to build in 1932, and was accomplished in 1934. The building covers an area of 11,480 square meters, of which the construction area occupies 6301.54 square meters. The church is built by yellow granite and reinforced concrete with the surface carved with simple and elegant textures. Windows were designed to be semi-circular arched with smooth lines, which together make them solemn and simple. Above the gate is a huge rose window, flanked by two clock towers on both sides. The tower is 56 meters high. Two 4.5 meters-high huge crosses erect on the cone shaped spires that covered by red tiles respectively. Four clocks are suspended in the towers and once the bells toll, the voice travels miles away. Stepping into the church, a bright and spacious lobby comes into view, which is up to 18 meters high and can accommodate as many as one thousand people. Soft light passes through the stained glass window. On both sides of the lobby there are corridors. At the back of it there are two big altars and four small ones. The dome is painted with saint fresco that highlights the strong religious atmosphere in the dazzling lights. The top of the church is covered with red tongue-like tiles—grand and exquisite. Decorations of the church adopt the Italian Renaissance form.
    The bright and spacious lobby in the church is 18 meters high. Seven large chandeliers hang on the ceiling together with the altar at the back and the dome fresco exhibit the solemnity of the church.Catholic Church is the largest Gothic building in Qingdao with the capability of holding a thousand followers, the only consecrated church in China as well as a masterpiece of Christian architecture. During the Cultural Revolution, this church was seriously damaged. After several years of repair, it was re-opened in April 1981. It was listed as a key protected historic site at the provincial level.
    Telephone  number :0532-82865960
    Address   :15 Zhejiang Road, Shinan District, Qingdao, Shandong Province