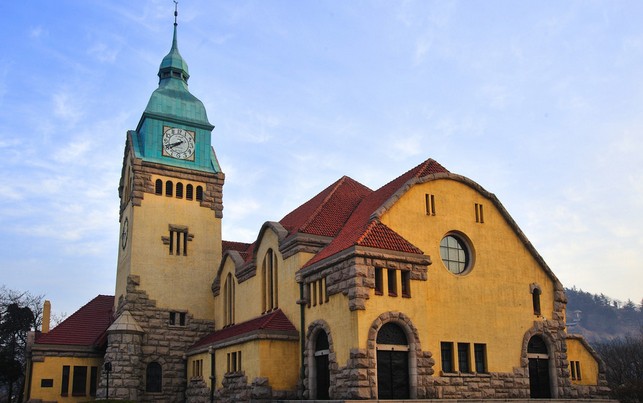 The Lutheran Church
    The Lutheran Church Introduction
    The Lutheran Church is a famous religious building of Qingdao and a major historic and cultural site under provincial protection, which is located on a hill at 15 Jiangsu Road in Shinan District of Qingdao, with beautiful Signal Mountain Park nearby to the east. It was invested by German Kiaochow governors' office, started on April 19, 1908 and completed on October 23, 1910.
    There is a bell tower on the top of it with a height of 39.1 meters, commonly called "Clock Tower". It is a typical German Castle building covering 1000㎡ and featured with a bell tower and an auditorium. The bell tower is 39.01m high, on top of which tourist can get a view of the picturesque seascape. The big clock on the bell tower gives the solemn church more mystery and decency. The auditorium is spacious and bright and can hold thousands of people. The auditorium of 18 meters high consists of upstairs and downstairs. Decorated very exquisitely and elegantly, it gives people a feeling of sanctity as people in it. It is no doubt a perfect work of Christian architecture.
    There are two two-story buildings in the church yard. One is ancillary church, and the other is the residence of preachers. The square in front is flat and broad with trees and many kinds of western buildings around, which further set off the church's magnificence. Distant mountains, nearby trees, green ceilings and yellow walls are looming in the morning mist at dawn, which makes you feel like in an exotic land at this moment. As people walk up on the narrow steps of stone hill, the church's solid and thick wall, half-circle and arched granite window frames, sloping red roofs and green-spire bell tower come into view. The foundation made of thick granites is dignified and rough, which outlines the church clear and concise and adds an aesthetic feeling characteristic of religious building.
    Telephone  number :0532-82865970
    Address    :15 Jiangsu Road, Shinan District, Qingdao