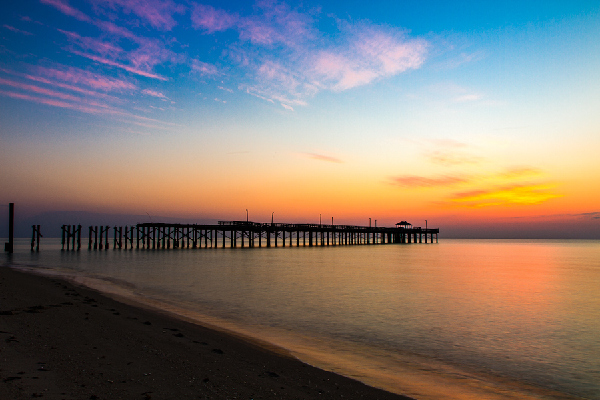 Zhanqiao Pier
    Zhanqiao Pier is the symbol of Qingdao. It was called Qianhai Pier, Nanhai Pier and Big Dock. Located in the Qingdao Bay, it is the extension of Zhongshan Road, the busiest commercial street in Qingdao. It is acclaimed as "a long rainbow on the sea". It was initially built in 1892, and was the first dock in Qingdao. It was rebuilt in 1931 and renovated in 1985. It is now 440 meters long and 8 meters wide. There is a semicircle breakwater at the southern end, and within the breakwater, there is two-storey eight-cornered pavilion with golden roof and red wall. This is the famous "Huilange"(Wave Pavilion).
    Zhanqiao Pier looks like a dragon on the sea. Walking on it towards the southern end, you feel as if you are entering the sea. Standing by the pavilion, you can see the waves coming with great force and splashes on the breakwater, with drops of water flying like pearls.
    Coming into the pavilion, and climbing to the top floor through the spiral stairs, you can see the sea on all sides. At this time, you will be convinced that Huilange is indeed one of the ten major scenes in Qingdao. In Autumn, when the tide rises, the scene at the west of the pavilion is the best, with the 10 meter waves splashing on the breakwater with great sounds. Simply splendid! When the tide ebbs, there are lots of people on the intertidal zone, digging clams. In the recent years, people organized "retain the seagull" campaigns. At the junction of autumn and winter and during windless days, you can see thousands of seagulls flying over Qingdao Bay, forming a picturesque panorama with the sea, the blue sky, the pavilion and the people.
    The north coast of Zhanqiao is now a park called Zhanqiao Park. There are pine trees, lawns, and stone benches. In the night, the lamps in the streets and Zhanqiao are like beautiful flowers, and the light from the lighthouse on Mini Qingdao is reflected by the sea water, giving a fantastic atmosphere to the visitors. Zhanqiao Pier is also a landmark and famous tourist spot in Qingdao.
    Telephone  number :0532-82884548
    Address   :No.12 Tainping Road, Qingdao