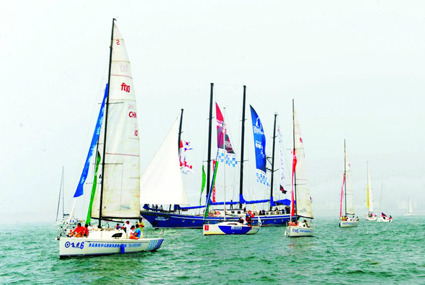 On August 19th, the grand opening ceremony of the 4th Qingdao International Sailing Week was held in Qingdao Olympic Sailing Center. Göran Petersson, the president of the International Sailing Federation(ISAF), made a speech at the opening ceremony and he said that Qingdao has won the bid of hosting the 2013&2014 World Cup Regatta Asia Competition. This indicates that the World Cup Regatta has taken a giant step forward in its development history and will further consolidate the status of Qingdao as "the city of Sails of China".
In the opening ceremony, Göran Petersson, Guo Chuan, "the first Chinese participating in Volvo Ocean Race" and other six celebrities of the navigation circle were awarded the "Sailing Helmsman" Blue Sport Pilot awards for their great contribution to the development of Qingdao sailing.
The 4th Qingdao International Sailing Week is themed "Sailing capital to boost the blue transformation"and has more than 50 activities. Divided into eight components, including international sailing competitions, sailing popularization, sailboat industry, sailing culture, experience exchanges among youth sailors and etc.
The International Sailing Week consists of four major sailing events. Among them, the sailing course of the fourth "Mayor's Cup" International Yacht Race is 350kms long from Weihai to Qingdao with a stopover in Rushan. This competition takes the forms of track racing and rally racing. The 4th Qingdao International Regatta includes 40 ships from three levels, namely Beneteau, Far East and Flying Tiger level. In addition to the track racing, the Regatta also adds Around Island Race. Moreover, Qingdao International Optimist Training Camp & Regatta 2012 is continued. More than 300 outstanding young athletes from all over the world joined in the activities of the training camp. During the sailing week, 2012 National Windsurf Elite settled in Qingdao. More than 100 domestic elite yachtsmen from the windsurfing community gathered here. (Sun Fei)
(Photo: A large-scale sea cruise played the first movement of the wonderful sailing week)