Qingdao InternationalRegatta2019-Entry form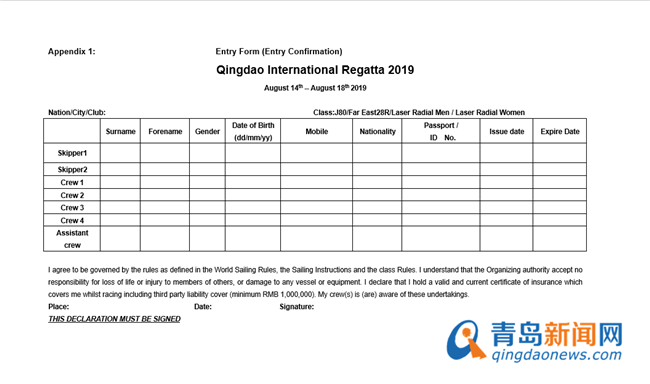 Qingdao International Regatta2019 Notice of Race (August14th --August18th2019)
5. On-line Entry
5.1. For each team, there could be only1 team leader or coach and3-5competitors onboard for J80 boat,4-6 competitors onboard for Fareast28R boat,1 competitor onboard for Laser Radial. Thoes who attend the race of laser radial need to be born before August9th2004(15 years old or older).
5.2. Eligible teams may enter by completing the entry form at http://www.qdsailing.org/ and send it to sailingweek_qdya@163.com with all the copies of passports or IDs of all the team members. The entries should be received by the Organizing Authority no later than24:00 hrs (UTC+8), July26th,2019.
5.3. Teams that received the E-mail confirmation letter of the organizing authority will be considered entering successfully.
5.4. The photo and introduction of the skipper, photos and VCR with all crews and the skipper in it(if possible), introduction of your team( within400 words), shall be received by Organizing Authority no later than24:00 hrs(UTC+8), July26th,2018 and send them to sailingweek_qdya@163.com.
5.5. Late entries may be accepted at the discretion of the Organizing Committee.
6. On-site Registration
Each eligible team shall submit the following documents at registration:
6.1. A copy of the entry confirmation.
6.2. Passports or IDs (the original and the scanned copy) of all team members.
6.3. equipment deposit and accommodation fee.
6.4. Proof of third-party liability insurance and personal accident insurance complying with NOR21.
To get more information, please click here: Qingdao International Regatta2019 Notice of Race
Click here to download:
Qingdao InternationalRegatta2019-Entry form.doc